Kuvaus
Professional's Choice Comfort-Fit SMx Air Ride Pad Quest, anatomisesti muotoiltu satulapatja, hevosta vasten merinovillaa, päällinen villaa, välissä ainutlaatuinen SMx Air Ride materiaali, padin koko 33″x 38″.
Valmistaja: Professional's Choice.
Developed from the horse's back up, the Comfort-Fit® SMx Air Ride Saddle Pad is contoured to follow the curve of the horse's spine. As a result, the pad locks in place on the horse's back, allowing full movement. The SMx Air Ride core is made of a unique material found in the protective gear of professional human athletes for absorbing shock while allowing air flow to the skin, creating a natural cooling system that lowers the horse's body temperature and slows the rate of fatigue. Available with a soft merino wool lining that wicks away moisture.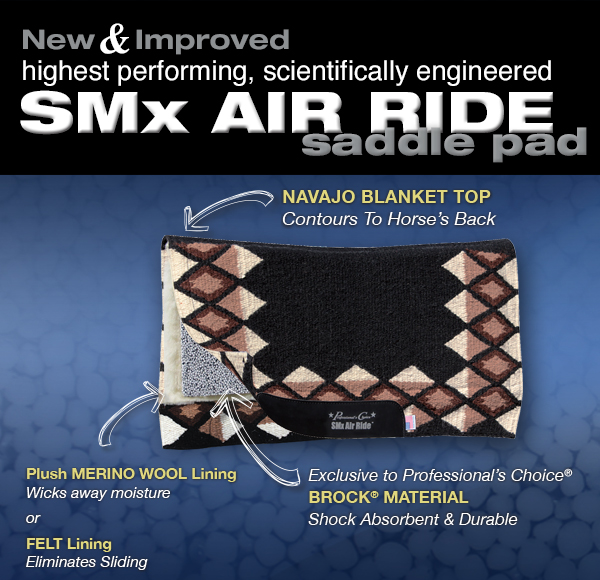 SMx Air Ride
The Professional's Choice new and improved SMx Air Ride Saddle Pads feature a brand new core that provides 12% more energy absorption and 5% greater pliability, making them more comfortable than ever! This revolutionary pad works to protect your horse's back by absorbing negative energy and dispersing it over the entire pad, preventing uncomfortable pressure points. In addition, this latest version of Air Ride technology now allows up to 50% more 3-D airflow to keep your horse cool, slowing the rate of fatigue.